Afaria Setup 9: Configuration – SQL Server
2

min read
Afaria needs a database server to save its data into a database. This data was installed in the previous step. Now the SQL Server Express data needs to be prepared for SAP Afaria installation.
Preparation
Afaria will need a user to log on to SQL Server Express. As Windows is already hosting an Active Directory, an SAP Afaria user can be created to be used to log on to SQL Server. The same user will be used later by Afaria as the Afaria service user. The user is created in the AD using the Active Directory tool.
Create user
First name: afauser
Last name: n/a
Full name: afauser
User logon name: afauser@tobias.de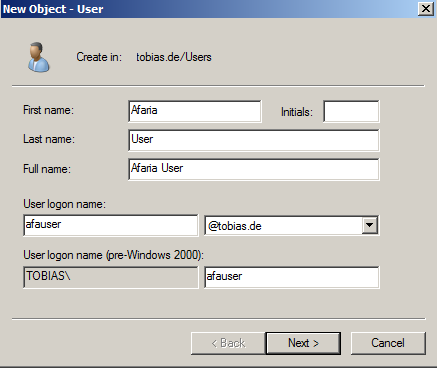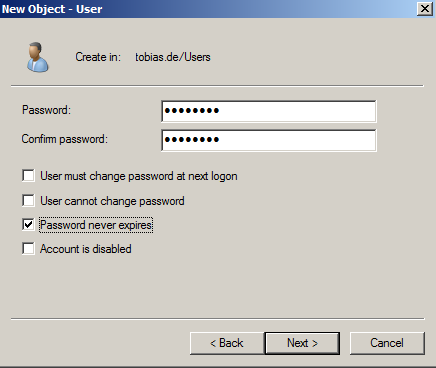 Confirm the user data.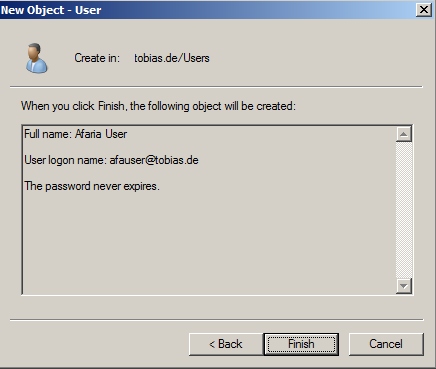 Add user to groups
After the user afauser is created, the user must be prepared for Afaria tasks. This is done by adding him to the right user groups. By default, the user is already part of the domain users. It must be added to domain admins too.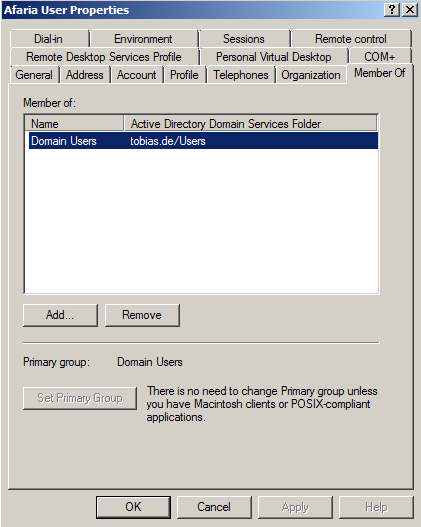 Select group: Domain Admins.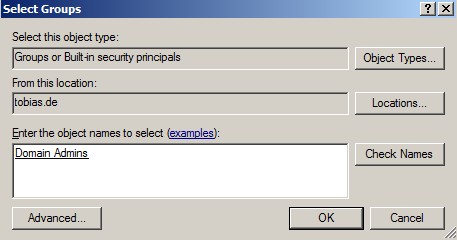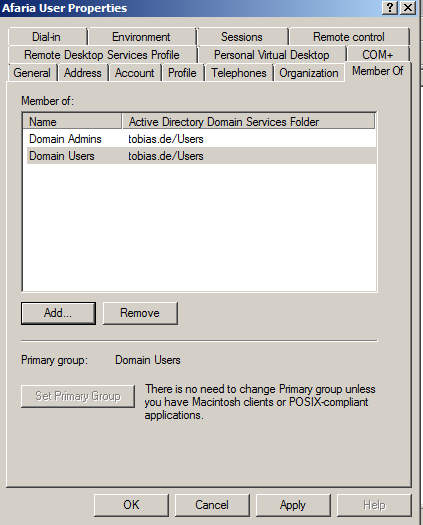 Create Afaria DB
Start SQL Server Management Studio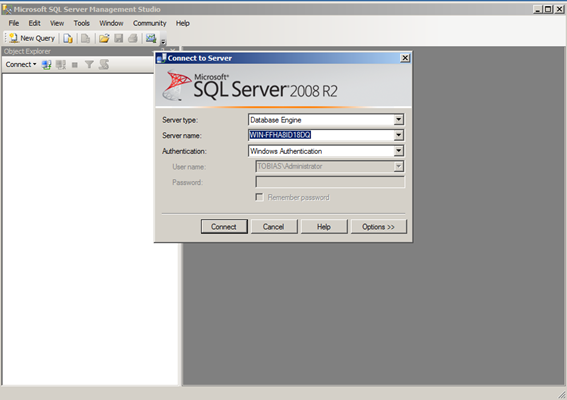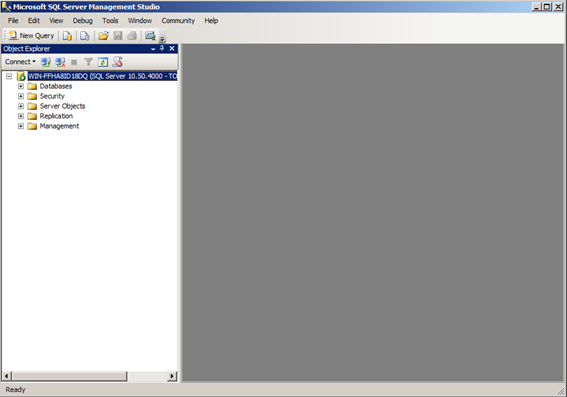 Open the context menu of the database node of the server and select New Database.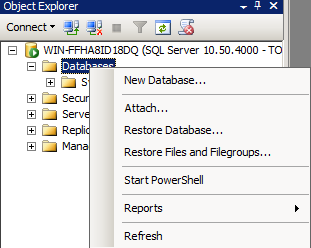 Enter a name for the database (AfariaDb) and give as initial log size 25 MB. The rest of the configuration parameters can be left as is.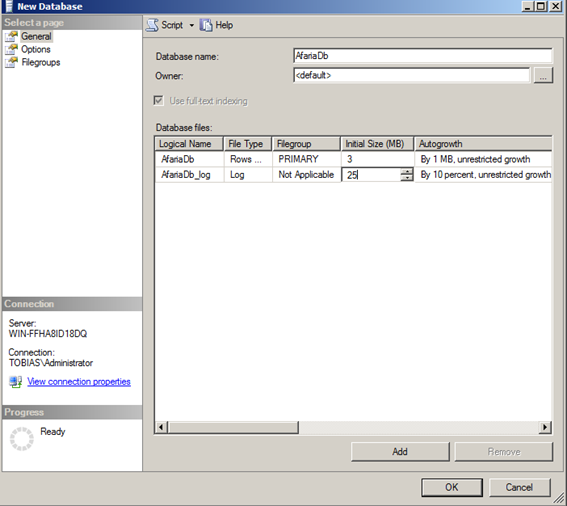 Select the Security folder and Login. Open the context menu and select New Login.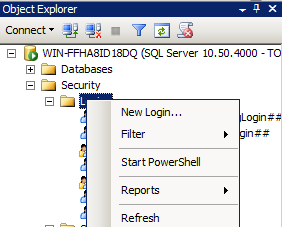 Chose as login name the afauser created in section preparation. Set as default database AfariaDb.
Login name: afauser@tobias.de

Windows authentication: yes
Default DB: AfariaDB
Default language: <default>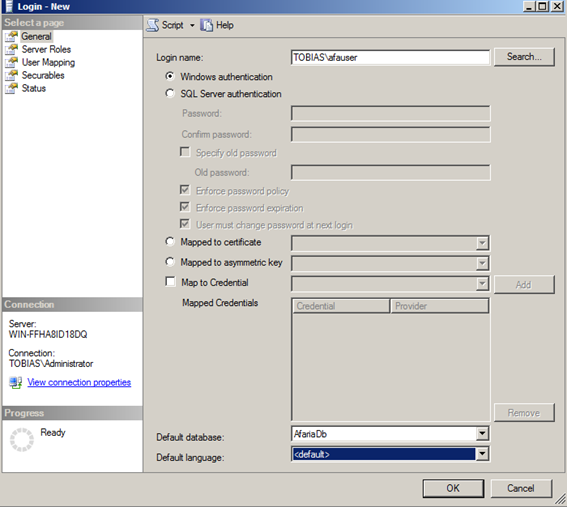 Add db_executor role
Select AfariaDb under SQL Server and Databases. Select New Query.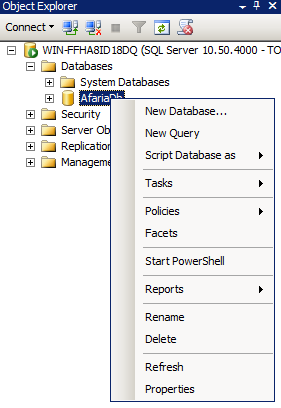 In the query editor, enter: CREATE ROLE db_executor


Select Execute


The runs the SQL query on the AfariaDb. In the ouput message window the status of the query can be seen.

Next, run the query: GRANT EXECUTE TO db_executor

Select Execute



These 2 queries created a new role and granted the db_executor permission to it.
Assign roles
Next step is to assign to afauser the needed roles. Select Security -> Users under AfariaDb and click on New User.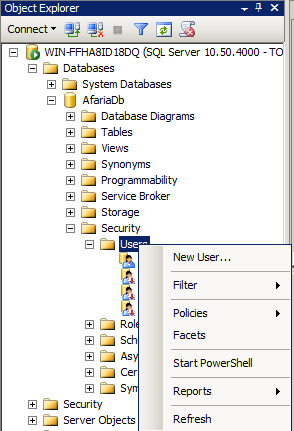 Select afauser and give the following Database role memberships:
db_dataread
db_datawriter
db_ddladmin
db_executor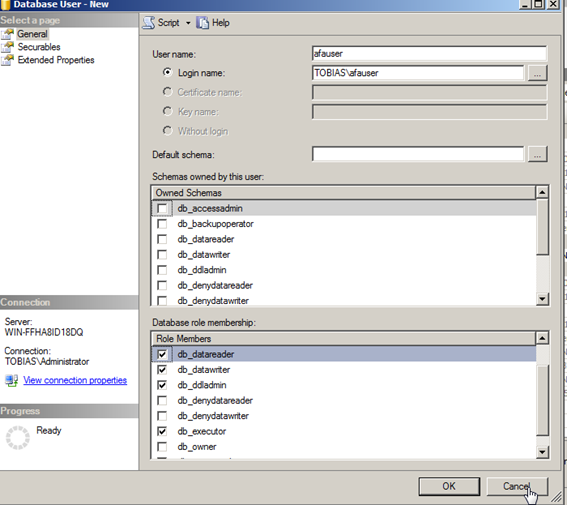 This concludes preparing Windows 2008 R2 Enterprise for Afaria. The next steps are now installing Afaria server.