Personas 3 SP03 – Hide SAP Easy Access label
2

min read
After installing SAP Personas 3 SP03 you may not be able to hide the SAP Easy Access. The hide button is deactivated. This can be solved by applying the latest Personas 3 client. Just import SAP Note 2295996.
Symptom
Hide button is deactivated to the SAP Easy Access label.

Solution
After installing Personas 3, you really should run the health check tool and verify if all relevant SAP notes are applied. The tool includes a button to check for SAP notes. Just make sure your ABAP system can connect to SAP Notes and download relevant notes.

Apply SAP Note via SNOTE.
The health tool will show you what to do, next is only to have the right Basis permission and let the system automatically apply the notes. It's that easy with Personas.
Apply SAP Note manually
In case there is no connection to service market place available, and you cannot download SAP Notes via SNOTE, life is a little bit more complicated.
Download SAP Note
Check the relevant notes for Personas 3 and upload them manually. Download the SAP Note and unzip the contained txt file.

Upload note to SAP system
In case your system is OK and all other notes are already applied, you'll see an empty screen. Now upload the SAP Note manually.

Goto > Upload SAP Note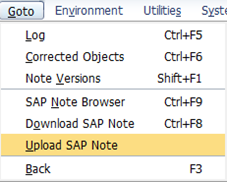 Select extracted txt file.

The note is imported. The screen of SNOTE changes and shows you now the uploaded note.

Implement SAP Note
Select the note and go to SAP Note > Implement SAP Note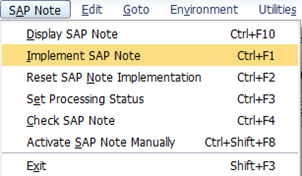 You may get an information the an RFC connection to SAP is not possible.

Confirm that you have read the SAP Note (you did, right?). This will start the import process.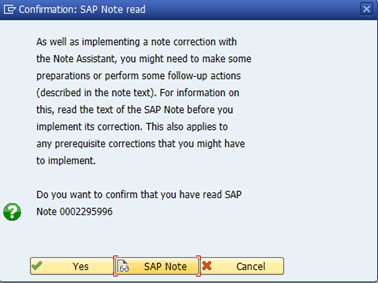 Confirm that you know what you are doing.

Give a transport request.

Confirm again that you know what you are doing.

The status of the note is changing to processing.

Set processing status
Double click the note and you can see more information, also the implementation state.

If you are happy with it, set the processing status to completed.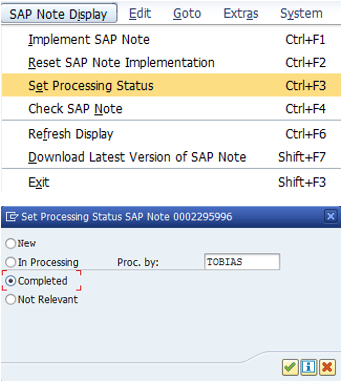 Result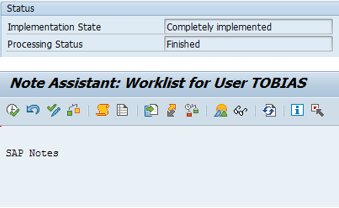 Validate result
As you remember, all of this was motivated by the objective to be able to hide the SAP Easy Access text. To test if it now works, go back to the flavor, select the text and hide it.

Now its possible to select the text and the hide button is active. As expected, hiding the lable is now working.