Lossless audio with Odroid C2 and Libreelec
2

min read
For several years I have been running Kodi on a Raspberry Pi. It started with Openelec, followed by LibreELEC, using a Raspberry Pi 1, 2 and finally 3. Every time I upgraded the Raspberry Pi that runs my home server, I took the replaced Raspberry to run Kodi with LibreELEC. To be able to watch MPEG-2 from DVDs, I bought the license from the RP Foundation. Over the years I switched from DVD to BlueRay, and with that the quality of the picture and sound changed.
The sound formats you get on BlueRay made me switch and replace the Raspberry by a Odroid C2. Depending on the BlueRay movie, you get DTS, True-HD and Atmos. To be able to listen to DTS or Atmos, you need an audio receiver supporting the format. Kodi can pass through the audio channels to your receiver (AVR). Decoding the bit stream is then a task of the AVR. In case the audio signaled received is valid, AVR will show the correct audio format (DTS, Atmos) or PCM. PCM means: it did not work, information is missing and the AVR is not able to understand the received audio format.
The sound is transported together with the video signal through HDMI. Raspberry Pi supports HDMI rev 1.3. This is just not enough for transporting high quality audio with several channels. Because of this limitation, not all channels are transmitted, and the audio receiver is PCM, but not DTS or Atmos any longer. Odroid C2 offers HDMI rev 2.0, meaning you get 4k at 60Hz and enough bandwidth to support high quality Audio. It comes with more RAM and faster LAN too, so the streaming and user experience is better.
The main plus point is that it's HDMI can pass through high quality audio. Kodi playing a track with 7.1.2 Atmos? Information on whether it will actually work is not easy to find. Some posts say yes, others no. It seems that it wasn't working a few years back, but today it is working. For testing, Kodi provides a library with sample files. From there you can download official Atmos content. Another site with many samples is the digital theater.
I'll use the conductor sample: TrueHD 7.1 Atmos.

Configuration
Pictures are in German, but you should be able to find them in Kodi.
Go to Settings > System > Audio
Audio output over HDMI and 7.1 channels.
Allow pass through
Activate codecs your AVR supports. Mine supports AC3, E-AC3 (Atmos), DTS, True-HD.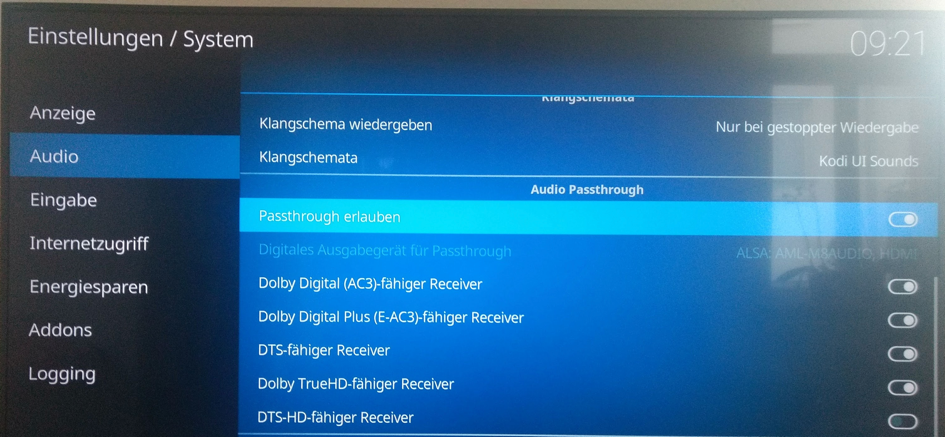 Test
Start the conductor sample for testing the Atmos sound.

Soundbar shows correctly that Dolby Atmos sound is received.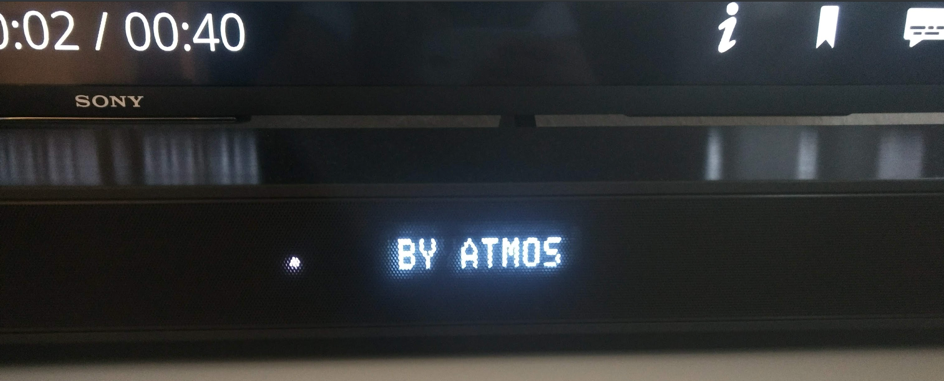 Playing a DTS sample, soundbar shows correctly that DTS sound is received.