SAP Cloud Platform transitions to Business Technology Platform, the problems stay
5

min read
Sie müssen nur den Nippel durch die Lasche zieh'n

Mike Krüger
At the SAP RISE announcement event not only the new RISE offering was part of the news. A change in product naming and positioning was performed under the hood. SAP dropped – or as they call it: sunset – the cloud name. SAP Cloud Platform (SCP) is no more. The new name is SAP Business Technology Platform (BTP). No big news here as
we are used to seeing SAP constantly changing names.
BTP was already part of SAP wording before SAP TechEd '20
Is BTP just a new name for SCP? No! And that is very good news. SAP not only changed the name to BTP, it widens the scope of their cloud offerings to match more what customers expect from SAP. BTP is more than "just" cloud. It includes all the technology SAP offers to enable the intelligent enterprise.

Figure 1: Source
As you can see in the picture, BTP includes SCP services and related products like SAP HANA, SAP Analytics Cloud, ASE, MDG, BW, BI, etc. Under the new name you get now more than with the old SCP. This makes 100% sense, as customers can now find under BTP cloud services as well as products that add value when combined together. This should make it easier for SAP to talk to customers and explain the intelligent enterprise story end to end – not process-wise, but technology-wise. The separation we had until now is gone. Instead of asking if SAC is part of SCP, it is now clearer they are all under the same strategy (intelligent enterprise), serve different areas (DB, apps, AI) and are meant to be used together (BTP).
So far, switching to BTP is great for SAP when it comes to talking to customers. But does the name change solve SCP problems? No, these are staying. Most prominently the main obstacle when it comes to adoption: it is simply not easy to use SAP services in the cloud. There is still no free tier. There is no out of the box integration with existing customer cloud services, like Azure services available in one subscription. SAP is not offering their business cloud services in a marketplace like way*. You cannot simply integrate an SAP service that offers some business process functionality into your cloud app, running on AWS or Azure. SAP still focuses on S/4HANA (Cloud) selling – the intelligent enterprise anchor. The functional area teams doing the heavy lifting of the digital transformation are not in the focus. These will continue to deliver innovations on hyperscalers, and not on BTP. For those, SAP is not more than what gets the result of their app to save it somewhere in a Z-table. The current problem when it comes to SAP adoption in non-core ERP scenarios – bringing SAP in the middle of the app development at customers and not just for the heavy SAP centric apps – is not solved.
Having all these products now under BTP umbrella, the angle to look at these is changing. You can now expect that these products work seamlessly together. An app on BTP needs to be able to integrate with SAC, HANA Cloud, Ruum and IoT services, out of the box. When they all share the same name, are marketed together, integration is priority one. This is the foundation to be able to use these products to create solutions that provide value to the customer. If you have worked with e.g. Azure Apps, you know that the individual cloud services are easy to integrate and you can focus on the value of the solution, and not spend time on solving integration. That SAP is understanding this could be seen at TechEd, when the SAC to HANA Cloud integration was shown. It was done by using a technical user, but at least it's a start. Lifting the overall experience across the complete BTP products line, that is another challenge.
The other ongoing problems regarding SAP usage remain. For a company with non-SAP and SAP solutions, why use SAP Analytics Cloud and not Power BI? Why got for SAP DWC and not a generic data lake approach? Why Ruum, Mobile Services, AI/ML and not Power Apps, Logic Apps or Cognitive Services (or alternatives from AWS, etc)? SAP has a great reputation when it comes to support – not AGS, but supporting a product for decades and providing migration roadmaps. Unfortunately, this reputation is not (yet) earned for cloud. Same for roadmaps. The hassle it takes to adopt an SAP cloud service is still substantial. It's not a blocker, but still too much compared to competition. BTP is not addressing these points. These points need to be addressed by SAP. BTP must be a complete end-to-end package, from offering, selling, adoption and usage.
The pricing, licensing, the easy to grow aspect to get from free tier to paid tier is still one of the biggest issues with SAP cloud services. SAP promised to work on this. I started the discussion on this topic in September 2020. Fast forward 6 months: nothing. I am not losing faith. The one platform slide showed at DSAG TT 2021 gives hope.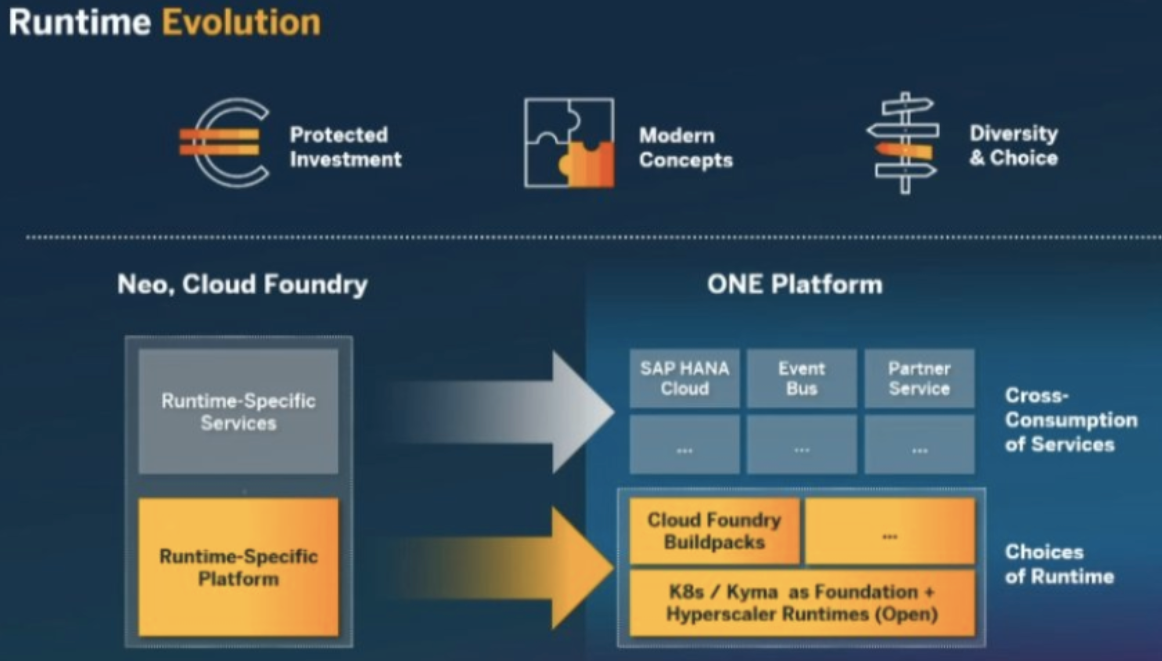 Figure 1: Source: Twitter #dsagtt21
For sure, this will take time. It is going to be a long journey. Maybe SAP will show something more concrete at next TechEd. This is a very, very long time until then. In the meantime, I invested and expanded my skills to Azure. In case it takes SAP too long, at least I have a second area I can build on.
---
* SAP's CTO Jürgen Müller showed at DSAG Technologietage 2021 the one platform approach which can lead to having a free tier.