FND – 45 – Configure SAP system alias for applications
2

min read
The configuration steps to be executed on the HUB system (FND) are detailed at SAP Help. The steps are for the OData Channel Service for backend system.
Basic configuration activities: SAP Help
User & Authorization SAP Help

SAP Gateway to Consumer (FND to SMP3)

SAP Help

Creating a bgRFC destination for outbound queues SAP Help
Registering bgRFC destination for the oubound queue SAP Help
Creating bgRFC supervisor destination SAP Help

SAP Gateway to SAP Backend (FND to BEP)

SAP Help

Activate SAP NetWeaver Gateway SAP Help
This document explains how to execute step 4.5.

Incoming OData request can be handled locally by the Gateway system or redirected to an SAP Backend. In a HUB installation, the OData service backend is a diferente SAP system (BEP), therefore an alias is needed to define to which backend a OData service should be redirected to.
SAP Help
The alias defined here will be used in the maintain odata services transaction to assign a backend to a service.
SPRO: SAP Reference IMG and navigate to: 

 SAP NetWeaver 

Gateway 

OData Channel 

Configuration 

Connection Settings 

SAP NetWeaver Gateway to SAP System 

Manage SAP System Aliases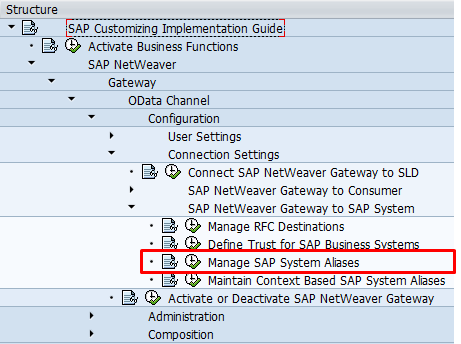 The program to manage SAP system alises opens.


Create a new entry

Enter the corresponding data for the SAP backend
SAP System Alias: ECC
Description: BEP backend

Local GW: No
For Local App: No
RFC Destination: ECCCLNT001
Software Version: DEFAULT
System ID: ECC
Client: 001
WS Provider system: empty

Save