If you build it, they will come
8

min read
"When I was younger, so much younger than today

I never needed anybody's help in any way

But now these days are gone, I'm not so self assured (but now these days are gone)

(And now I find) now I find I've changed my mind and opened up the doors"

Help! – The Beatles
Last week I passed the Azure AI Fundamental (AI-900) exam. It was the second Azure certification I earned after passing the Azure Fundamentals exam in June 2020; meaning I passed two certifications in 10 months. What makes this special is the fact that I had to pay nothing for it. That's right: 0€, 0$. No costs involved. Neither for the exams, nor for the training courses. The only investment I had to take was time. I think this is a fair deal.
Microsoft Learn
How did I managed to get the free courses and free exams? I did not have to do something special. Everyone gets this offer from Microsoft. The courses? Free on Microsoft Learn. The exam vouchers? For Azure Fundamentals I participated in a free virtual training day to receive the exam voucher. (same virtual training day plus voucher applies for AI and Data Fundamentals). The voucher for my second exam I earned by simply attending Microsoft Ignite (virtual and free event) and go through some learning material in the cloud skills challenge. While the AZ-900 voucher gives a 100% discount for the fundamental exam, the ignite voucher lets you choose from an Azure exam. Want to be a certified Azure developer? For free? The ignite voucher makes it possible.
Having a voucher for the exam is nice, the most expensive part in getting certified is learning. You need time, and in case of an official course, money to pay for it. Not so with Microsoft. You can chose: instructure-led ($) or free online material. Depending on how you learn best, you have a choice. For everyone that can learn on their own, Microsoft offers the complete training material for free.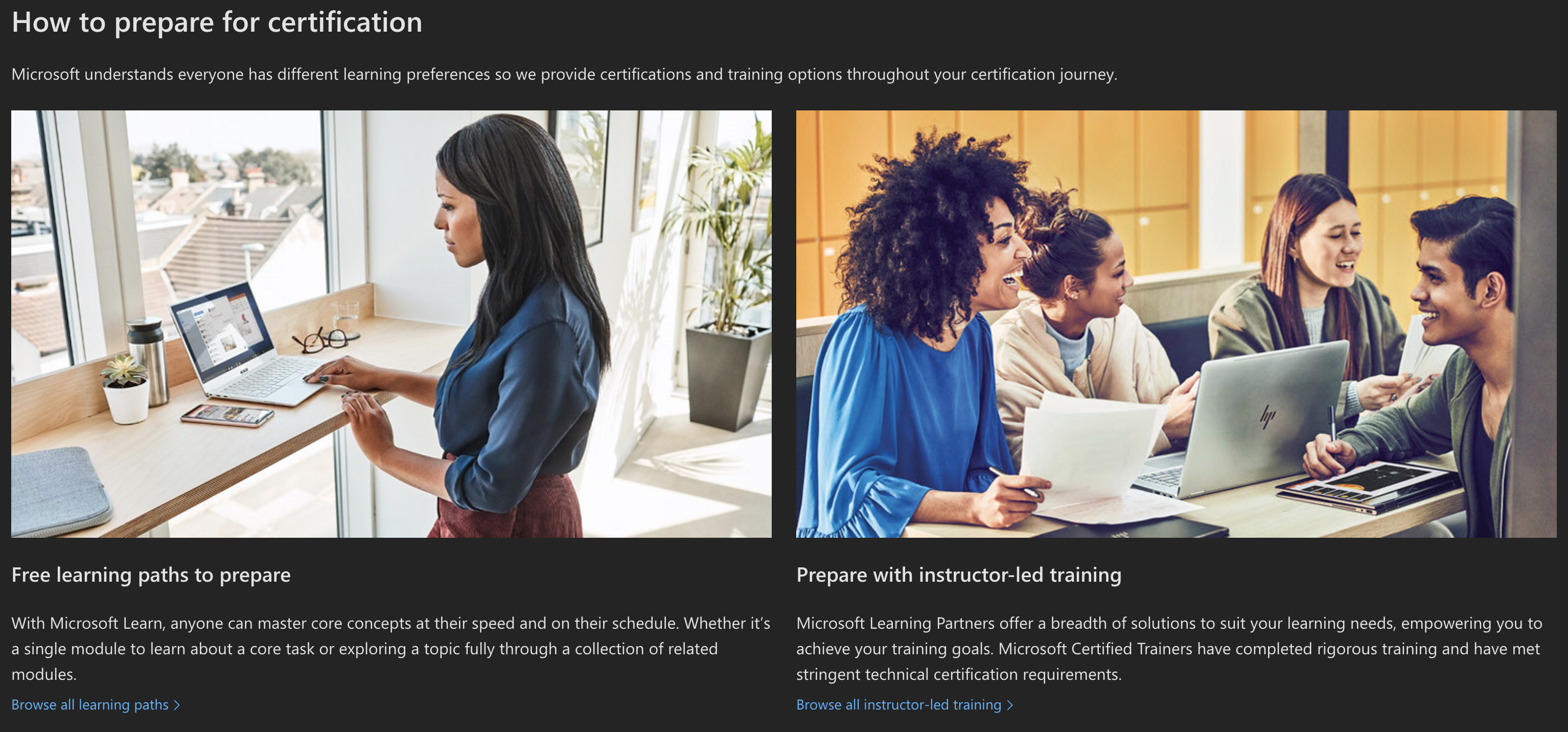 Take a look at the learning paths available. The list is impressive. If you come from SAP world and are used to the self-praise of SAP Education, what Microsoft offers is just breath taking. With the massive amount of learning material available for free, at your fingertips, 24/7, there is really no excuse for not skilling up your knowledge when it comes to Microsoft and Azure in particular. You are in a project and need to know how to use Azure Active Directory to secure an app? The information is easily accessible. What I really like about Microsoft's approach to learning is that you can browse the content based on different personas or products. And the learning and certification content gives a very clear overview of Microsoft's portfolio.

The job role helps tremendous in navigating the content and find what you want. A developer sees directly the certification to aim for and the recommended learning material. All in one place and as the learning material is already there, you can start right away. For the technical/product approach, the same method to display information is applied. You want to learn more about IoT? CosmosDB? Or just go through a learning path? Web Apps, functions, Kubernetes, or virtual machines? For a product you can find in the Azure directory, you can find something to learn. Honestly, this is really easy to navigate.
SAP Education
If you are wondering why am so excited about Microsoft Learn: I come from the SAP world and have to deal with SAP Education (SAPEdu) when it comes to learning and certification. Comparing Microsoft Learn and SAP Education means to compare not only two different worlds: it's more like comparing two parallel universes. SAPEdu clearly has the mission to generate revenue. Where possible, they stress that customers and partners can book their services and get a tailored course offering. The focus group are customers using SAP and employees that are selected to complete a training for upskilling. For self-training, you can subscribe to learning hub and get access to a web version of the training books (plus a little more). SAPEdu also maintains learning journeys for different roles and products. Depending on the product and role, the learning journey includes some free content (Fiori developer) or mostly paid content (ABAP developer). In all cases: to get access to the official training material: pay for it.

Depending on the edition it is 1.500€ or more. To be fair, you get access to a training system and two exam vouchers are included. Yet, 1.500 € is more than 0 €. SAP provided for TechEd 2020 participants a free access to event edition of Learning Hub. Access is limited to selected content and ends soon. Free vouchers for an exam? Of course not, you get a discount for buying two vouchers. The offer was 220€ for 2 exams. Using that option, each voucher costs still more than buying the official 6 exam package (110€ vs 84€). Not a problem as: it is really hard to find 6 certifications that make sense to take. If you are a functional consultant, you have a wide range of learnings and certifications to choose from. Looking at the official list of SAP certifications, there are 15 certifications for developers, 18 for administrators and 114 for the more functional roles (applications). There is some overlap, but the overall message is: from a certification point of view, SAPEdu is targeting the application user, not the developer or administrator.
The presentation of the certifications is loveless: it's just a list, no filter, nothing. You cannot match the training or certification to SAP's product strategy and current portfolio. For many things SAP is mentioning in their presentations, you may find something in the learning journey, but not in the certification list. Mobile? IoT? AI? Cloud? RPA? The SAP Cloud certification was removed and replaced by two new certifications: C_CPE_12 and C_CPI_13. Why is SAP not offering a base certification for their cloud services and on top the more in-depth certifications? Certification and learning material for architects? Mobile developers? Security (SAML, OIDC)? What happened to mobile developers? Much hyped Apple partnership, yet you find nothing at SAPEdu. SAP moved a substantial amount of learning content to openSAP. There you find courses about IoT, Leonardo (RIP), architects, cloud native developers, mobile, etc. While this looks nice at first glance, after going through several of these "trainings", they cannot be compared to what Microsoft Learn offers. Too many are clearly marketing driven. You can take the final exam and pass the openSAP exam. The value of that certification is obviously not the same as with a real certification.
Conclusion
Summing up the outcome of above first-hand experience with Microsoft Learn and SAP Education it is clear that SAP needs to do something. For a professional, the barrier to learn Azure is low, almost inexistant. Not knowing Azure in 2021 is not the fault of Microsoft. On the other side, the entry barrier to learn SAP is higher. SAPEdu is more like a wall you hit when you decide to learn, and Microsoft Learn is an escalator:
Learning Hub: €. Exam: €. openSAP content: fastly outdated. Free content: none. Certifications: some. Aligned with portfolio: passably.
Microsoft Learn: Free content and exams. Aligned with portfolio, wide range of certifications and learning material.
I did not even mention that you get free VMs/computer resources in some trainings. Microsoft provides code, Jupyter notebooks, samples (side effect of last SAP TechEd: finally a useful number of tutorials available on GitHub), and the list just goes on and on and on. If you find training material at Microsoft Learn, you can start immediately. You do not even have to log on! Just start reading.
Azure is growing fast, super fast. And adoption is increasing at SAP customers. There are several factors that drive this adoption at customers. Of these, two are heavily influencing Azure's triumphant advance: access to trained professionals and free tier. If you build an easy-to-use learning environment, developers will come. With them their functional teams and in the long run, the customers.
Oh! I almost forgot: free tier. Azure offers a free tier. A free tier you can use today! SAP offers a CTO talking about a free tier that will come, possibly, maybe in 2021, perhaps not completely, maybe just to a selected number of customers, or in 2022. That's too much uncertainty to be able to sell BTP services to prospects that can chose.
Free tier + free training + free certification. Win-Win-Win situation for professionals, customers and vendor.
If you are wondering what I'll do next: I concluded the Ignite 2021 challenge and earned another exam voucher. That's the 3rd one I got in less than one year. Time to learn for my next Azure certificate.